IS YOUR CONCRETE UGLY? THEN TAKE A LOOK AT
Epoxy Flooring St. Louis, Missouri
Free Estimate
Quick Installation
Ease of Maintenance
Choose any of our Colors and Designs.
Certified Installer and Years of Experience
Largest Variety of Durable Floor Applications
Local to St. Louis, Missouri
Fully Bonded and Insured Installer
Family Owned and Operated
Call us for a free Estimate
St. Louis Epoxy Coatings and Flooring Company
Decorative Concrete Resurfacing St. Louis, Missouri
Why Choose St. Louis Epoxy Coatings and Flooring Company?
Epoxy Coatings St. Louis, Missouri.
St. Louis Epoxy Coatings and Flooring Company is dedicated to providing the best epoxy floor coatings in our hometown of St. Louis, surrounding cities, and the neighboring region of Illinois. Our company provides the most durable decorative concrete applications in St. Louis. Any of our decorative concrete services listed are the best flooring options available on the market that are proven to last indefinitely in your home or workplace. We only install the decorative concrete resurfacing systems that we would want to have installed within our home. All of our concrete refinishing services are freeze and thaw stable and engineered to withstand the harsh winters of Missouri and Illinois. If your looking for beautiful flooring in St. Louis then give us a call to schedule a FREE estimate. At St. Louis Epoxy Coatings and Flooring Company, we provide these decorative concrete flooring services in St. Louis:
Decorative Custom Concrete Resurfacing
Epoxy Floor Coating
Epoxy Flake Floor
Pebble Stone Epoxy Flooring
Metallic Epoxy Floor
Stained Concrete Floor (Acid Stained, Acetone Stain Concrete)
Stamped Concrete (Stenciled Concrete, Brick Pavers, Flagstone, Deco Crete, Floor Tile, Hardwood Floor, Custom Concrete, Spray Texture, Natural Stone, Slate, Marble, Pebble, Wood, Stone, and Granite)
Quartz Epoxy Floor (Micro Exposed Aggregate Concrete Coating)
Concrete Cleaning, Concrete Pressure Washing, Concrete Sealing
Concrete Countertops turned into beautiful epoxy countertops in St. Louis, Missouri
Jefferson County, Washington County, Franklin County, Warren County, Lincoln County, St Charles County, Boone County, Columbia, Missouri, City of Columbia, all of St Louis County/City, and both Madison County and St Clair Counties in Illinois.
Let epoxy coatings do the decorating
We Cover these existing concrete surfaces
Residential Flooring, Industrial and Commercial Flooring
Front Entry / Front Porch Resurfacing and Sidewalks
Garage Floor Resurfacing
Concrete Driveway Resurfacing
Concrete Patio Resurfacing
Concrete Pool Deck Resurfacing
Sunroom Floor Resurfacing
Living room, Dining, and Kitchen Floor Resurfacing
Basement floor Resurfacing
Bathroom Resurfacing
Countertop Resurfacing
Fast Installation, Affordable, and Professional Epoxy Flooring Contractor in St. Louis Mo
Local St. Louis Epoxy Coatings and Flooring Company in Missouri
Ready for a free estimate?
Our Decorative Concrete Resurfacing Services
Stamped concrete can give the concrete around your home a unique look with different patterns, designs, and colors available. Whether you're looking for flagstone, brick, paver, tile, hardwood, concrete wood, marble, granite, or natural stone, our company can give your concrete the desired look you want to achieve.
Metallic epoxy flooring is a popular coating that you will see throughout a home or on a garage floor. Metallic coloring powder can be mixed into the epoxy resin to produce a beautiful multi-dimensional or 3d floor. Metallic epoxy floors can be reflective and shine or we can give you a matte finish. This epoxy system offers a lot of color effects and variety. We roll a top coat of polyaspartic, urethane, polyurethane, or polyurea coating.
Stains react chemically to the concrete surface and allow us to apply any of our beautiful stain colors to the floor. Stained concrete in St. Louis has never been more convenient and will also beautify and protect your concrete slabs.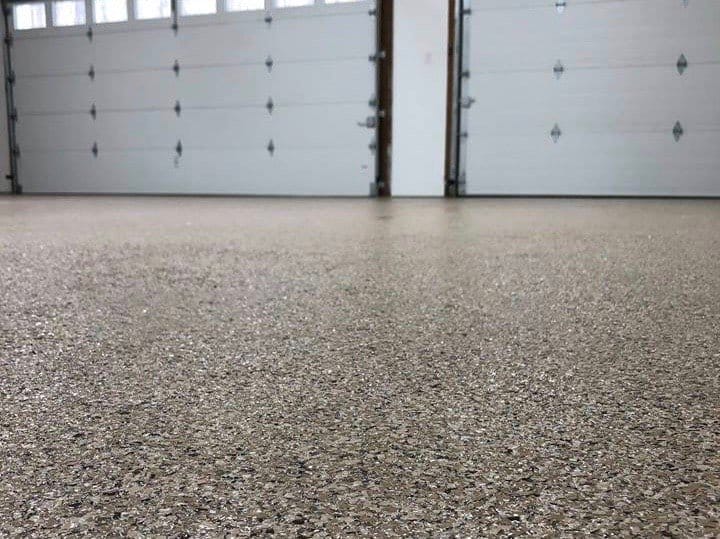 Epoxy flake flooring is a great way to give plain or cracked concrete an attractive, durable, and long-lasting appearance. This epoxy system is blended with flakes and made up of many colors. Epoxy flake garage floors have a scratch, stain, oil, and chemical-resistant surface that make them the perfect floor to park your vehicle on. The flakes come in a variety of sizes and color customization. We are more than happy to show you all the color options.
Concrete Sealing and Cleaning
St. Louis Epoxy Coatings and Flooring Company specializes in sealing concrete and cleaning concrete floors in St. Louis, Missouri. If your home or business needs concrete maintenance or concrete repairs please give us a call.
This system features decorative quartz that is granular in texture, smooth but maintaining a slip-resistant texture. Our quartz flooring system also has an array of colors to choose from. Quartz aggregate gives the floor a natural appearance that is crafted into a heavy-duty floor. We repair all concrete cracks, stains, gouges and divots before covering the concrete with our epoxy quartz flooring.
Concrete Epoxy COuntertops
Another seamless flooring option intended for high foot traffic areas and floors with vigorous conditions because of its extreme heavy-duty flooring qualities.
Urethane cement is another great seamless flooring option. This is a high-strength floor installed for heavy-duty environments that are designed to withstand impact, thermal shock, chemicals, and abrasion. This coating is typically found in commercial and industrial settings. The combination of polymer urethane with cement and aggregate makes it a very strong overlay.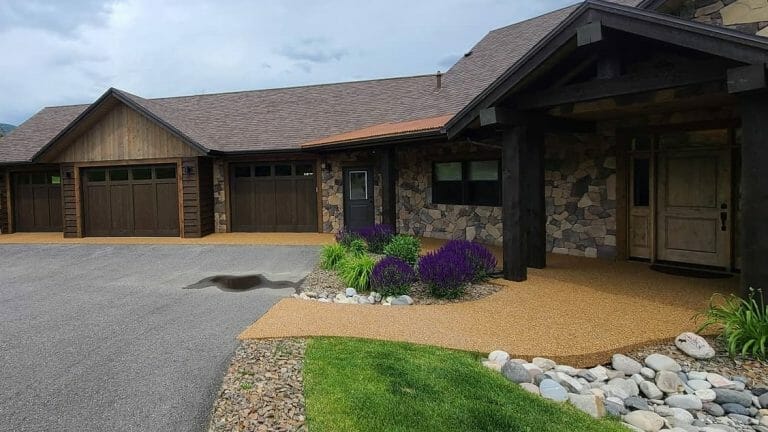 Pebble Stone Epoxy Flooring
The Pebble-Stone Epoxy System uses the beautiful look of natural stone and is integrated with epoxy to form one of the thickest, strongest and weather resistant concrete resurfacing coatings engineered for St. Louis weather. When it comes to resurfacing concrete nothing compares to the beautiful elegance this system can bring to your home. This epoxy flooring system is impressive and will be the new talk of the neighborhood.
See below what others are saying about us. Afterward, give us a call and we will happily guide you through this.
St Louis Epoxy Coatings and Flooring Company followed up very quickly after calling for a free estimate. I wanted to get our pool deck resurfaced before the holiday and I was extremely pleased how quickly they got it done and it turned out beautiful!
Our driveway looks the best in the neighborhood! I will be using them to resurface my garage floor next. Their decorative concrete craftmanship is beautiful!
I wanted the front steps and walkway to my business resurfaced to make it look nice and attract some attention. I still can't believe they were able to install it in a single day. Great work by St. Louis Epoxy Coatings and Flooring Company!
Local St. Louis Epoxy Coatings and Flooring Company in Missouri
Ready for a free estimate?
Decorative Concrete Coatings
The benefits of Decorative Concrete Resurfacing and Epoxy Floor Coatings St. Louis, mo
The installation of epoxy floors is fast, convenient, and very affordable. Epoxy Coatings are extremely easy to clean and maintain due to having antimicrobial floor properties. The concrete inside and around your home could be in bad shape or you simply want a new beautiful epoxy floor. Epoxy floor coatings cover your existing concrete and protect the concrete from further cracking and abrasion. If you choose concrete resurfacing for your home then you will be extending the life of your concrete slab. Epoxy flooring will serve as a shield for your concrete. These coatings are high strength in nature and will provide your floor with a shine or matte finish, it's up to you. You get control over the way your new floor will look. Decorative concrete floors and epoxy paint coatings will withstand high foot traffic in addition to resisting intense wear and tear over the years. Epoxy floors create a unique smooth surface while maintaining slip resistance with our performance non-slip additive. Decorative concrete will raise the curb appeal of your home. You have a variety of colors to choose from as well as custom designs and borders. Indoor and Outdoor Flooring options are available.
Local St. Louis Epoxy Coatings and Flooring Company in Missouri
Ready for a free estimate?
Let One of our concrete designers help you pick a decorative Flooring Solution In St. Louis Missouri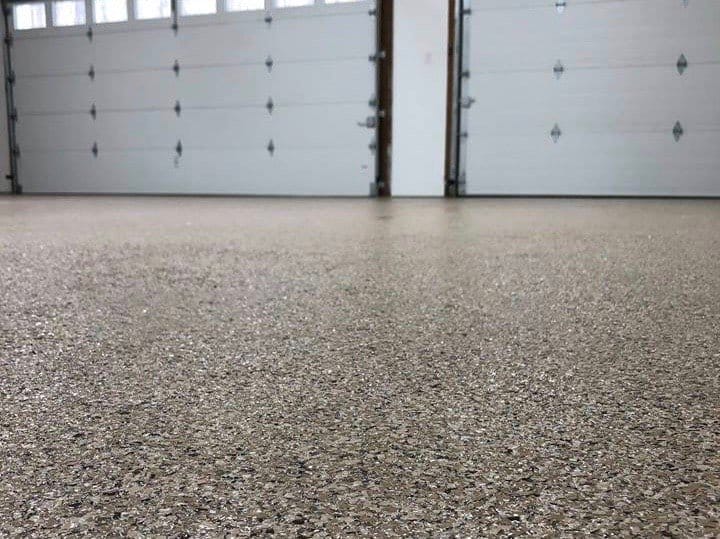 Epoxy Garage Floor Coating Services
Epoxy garage floor coatings have become the number one flooring choice for garage floor owners in St. Louis. The cost of an epoxy garage floor makes it an affordable concrete solution. We repair the concrete cracks before we cover the garage floor with our durable epoxy coating and topcoat. Epoxy flake floors are a popular choice and are smooth but still maintain a slightly textured surface. Metallic epoxy floor coatings are another design that gives the floor a multi-dimensional 3D look. We can create a terrazzo, or granite,  or pebblestone look for your home garage. If you are looking for a standard industrial epoxy paint look with a single color we can resurface it for you. We can also show you our epoxy floor tile or rubber tile system that is another great garage floor idea.
Our epoxy floor system is oil, stain, salt, and chemical-resistant
Easy to clean garage floor and ease of maintenance
Protects the concrete and its durability characteristics make it ready for heavy-impact, vehicles, and machinery 
Variety of colors, textures, and patterns available for your garage floor coating
Epoxy bonds permanently to your concrete. No peeling or flaking
Concrete crack and joint repair
Seamless garage floor
Decorative Concrete Driveway Resurfacing
Concrete driveway resurfacing can give your home tremendous curb appeal. If your driveway is cracked or has uneven concrete slabs St. Louis Epoxy Coatings and Flooring Company can resurface your driveway with a decorative concrete overlay that will permanently bond to your concrete surface. These driveway coatings create a textured slip resistant, oil, stain, and chemical-resistant surface that will last for ages. Compared to installing brick, pavers, or natural stone our fast installation times will impress you. Stamped concrete can give your driveway beautiful designs and there are a variety of beautiful colors that can be applied to your driveway surface. Our decorative concrete coatings have incredible strength that will withstand vehicle traffic and our system is freeze and thaw stable.
Updated look for your driveway
Raised curb appeal in your neighborhood
Salt, stain, oil, and chemical-resistant
Long-lasting and engineered to withstand vehicle traffic and heavy machinery
Stamped concrete driveway look, brick, tile, hardwood concrete, paver, flagstone, texture spray, stained concrete, aggregate, stencil design, beautiful patterns, and designs available to choose
Slip-resistant textured and safe surface
Local St. Louis Epoxy Coatings and Flooring Company in Missouri
Ready for a free estimate?
Let One of our concrete designers help you pick a decorative Flooring Solution In St. Louis Missouri
St. Louis Epoxy Coatings and Flooring Company has representatives ready to assist you with your home project. Let our company transform your kitchen floor or give you the epoxy garage floor you need in your custom workshop or tool shed. With so many residential flooring options and colors to choose from, our experienced concrete floor designers are prepared to take you through every step of epoxy floors and our decorative concrete applications. Having an epoxy floor will give you beautiful indoor flooring and outdoor flooring that is easy to maintain and even easier to clean. With our variety of decorative concrete resurfacing systems you can obtain a concrete hardwood floor look, stamped concrete, stained concrete, tile, brick pavers, flagstone, natural stone flooring, and our system will cover the concrete in your home. Epoxy flooring for homeowners, because of its permanent bond to the concrete makes it the best home decor upgrade decision you will make and keep indefinitely. If your concrete driveway has cracks then our decorative concrete driveway resurfacing is your best option. Instead of tearing concrete out, we can cover your existing concrete surface. Epoxy flooring is extremely easy to clean and maintain. Homeowners love our beautiful floor designs that are scratch-resistant, oil-resistant, stain-resistant, and chemical-resistant. For the most durable, and safest residential floor options in St. Louis, call today and speak with one of our highly experienced representatives!
At a commercial building or setting St. Louis Epoxy Coatings and Flooring Company knows how important it is for your commercial floor to have high-strength characteristics, withstand high foot traffic, and vehicle traffic. We can also embed your company logo onto the floor for all of your guests to see. All of our floor applications including our commercial epoxy floors are slip-resistant surfaces and have scratch-resistant floor properties. These floors are oil-resistant, stain-resistant, slip-resistant, and chemical resistant. If you're looking for commercial floors in St. Louis we have years of experience behind us. If you have a company project you are working on and would like to give your business floor a long-lasting floor, we would love to help you. Concrete contractors in St. Louis call us to make their concrete floor a beautiful and decorative surface. Epoxy commercial flooring can be the stronger and more attractive floor for your business than typical LVT (Luxury Vinyl Tile), VCT (Vinyl Composite Tile), Hardwood Floors, Carpet Tile, Urethane Cement, Ceramic Tile, Porcelain Tile, Rubber Tile, Rubber Flooring, Rubber Sheet Flooring, Bio-Based Tile, SDT, Cork, Vinyl, Broadloom, Static Dissipative Carpet, Walk-Off Carpet,  Marble, Slate, Natural Stone, Pebblestone, Granite, Reclaimed Wood, Laminate, Sports Flooring, Resilient Flooring, Resilient Cove Base, Sheet Vinyl, Linoleum, and Heat-Weld Sheet Vinyl. 
Industrial Floor coatings
Our industrial flooring services in St. Louis are highly recommended by local St. Louis project managers, general contractors, architects, and builders. St. Louis Epoxy Coatings and Flooring Company has years of experience working with other professionals and providing an impact-resistant, slip-resistant, high-strength, chemical reaction to salt damage, and is the safe floor you want for your company. We can meet in your industrial setting and show you our options and colors as well as the best flooring for your business. It's typical for us to see "St. Louis Concrete" damaged with concrete cracks, concrete blistering, concrete crazing, delamination, efflorescence, concrete scaling, and concrete spalling. St. Louis Epoxy Coatings and Flooring Company will handle concrete restoration in St. Louis by repairing concrete cracks and restoring concrete surfaces that aren't structurally sound. Our epoxy coatings and decorative concrete will cover your pre-existing concrete and protect the floor from further damage. You will see epoxy flooring in St Louis used in some of these commercial and industrial settings: Building construction sites, retail flooring, warehouse floors, hotel floors, commercial dining areas, restroom floors within business buildings, commercial kitchen floors, airplane hangars, front entry, or front entrances, side entrances, back entrances, company foyer room, hospital floors, surgery room, veterinary office and clinic floors,  venues, showroom galleries, churches, schools, college, education floors, gas station, firehouse, police station, restaurant, government buildings, military bases, auto shop, medical facilities and more.
Some of our company Service Areas:
Arnold, Augusta, Ballwin, Black Jack, Bowling Green, Chesterfield, Clayton, Crestwood, Creve Coeur, Defiance, Des Peres, Earth City, Ellisville, Eureka, Fenton, Florissant, Floristell, Glencoe, Grover, Hawk Point, Hazelwood, Hermann, High Ridge, Innsbrook, Kirkwood, Ladue, Lake Saint Louis, Manchester, Marthasville, Maryland Heights, Moscow Mills, New Melle, O'Fallon, Pacific, Saint Albans, Saint Charles, Saint Clair, Saint Louis, Saint Peters, Silex, St Paul, St. Louis, Sullivan, Town and Country, Troy, Union, Valley Park, Warrenton, Washington, Webster Groves, Wentzville, Wildwood, Winfield, Wright City, neighboring towns and cities of Illinois, and more areas not listed.










Decorative Concrete Resurfacing St Louis Missouri
We see your floor a couple of times.. you live with your floor. We want your new decorative concrete resurfacing coating to be perfect!
Professional Services and certified installer of:
Residential Epoxy Flooring
Commercial Epoxy Flooring
Industrial Epoxy Flooring
Epoxy Flake Flooring System
Metallic Epoxy Floor System
Quartz Epoxy Flooring System
Decorative Concrete Resurfacing
Concrete Epoxy Countertops
Concrete Cleaning and Pressure washing
Concrete Epoxy Countertops
Decorative Concrete Resurfacing St. Louis, Missouri
Decorative Concrete Resurfacing 
Epoxy Flooring
Industrial Epoxy Coatings
Stamped Concrete
Metallic Epoxy Floor
Epoxy Flake Garage Floor
Acid Stained Concrete
Epoxy Quartz Flooring